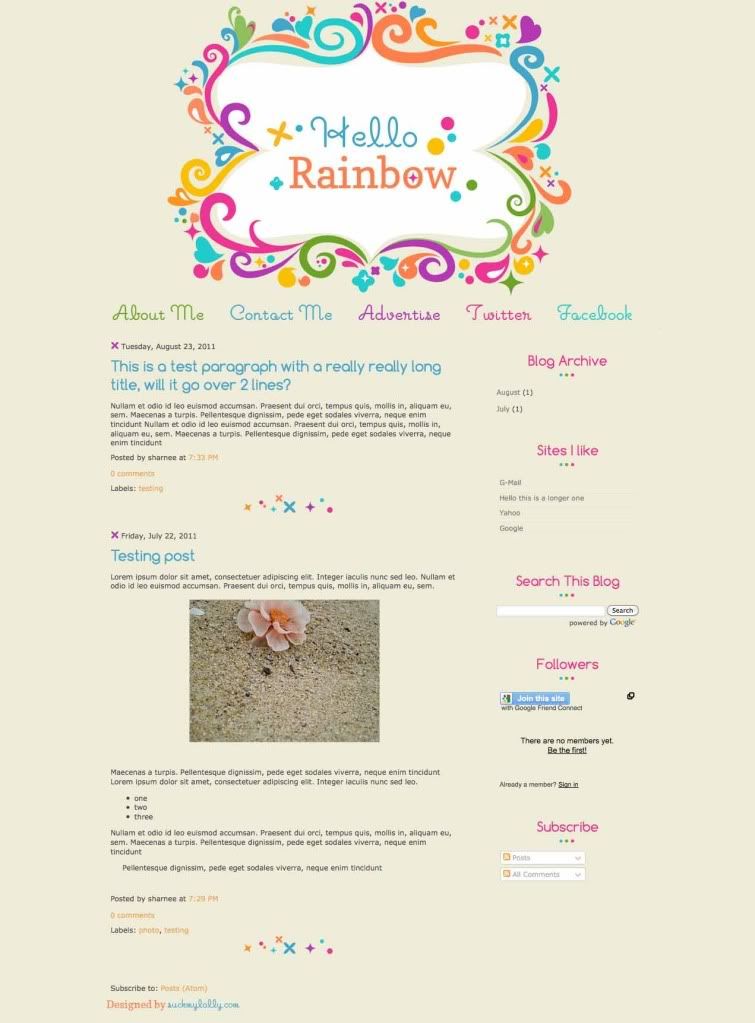 Description:
Ok, this is my favourite template, ever.  I am quite sure of this. A delightful rainbow header image and splashes of colour.
What's included?
1 x .xml Blogger template, header image (created by me, and supplied blank), site images, PDF instructions on how to install.
Also included in the price is creation of the header image for you (if you wish).  You will have to tell me which font you would like me to use, and what you want the header to say.  This does not include any edits to the image itself, only the addition of the header text in a font of your choice.
OMG What's that?  A menu bar???
YES, this template comes with a menu bar featuring up to 6 (maximum) links of your choice.  You will have to supply the text (ie: 'about me', 'who am I?' etc) and the URL that you wish to link to.  This must be provided at the time of purchase – or within a week after purchase, I will not create this menu bar a month after you have purchased the template.  The code to insert this menu bar will be provided and instructions given on how to install.  As this menu bar is an IMAGE, if you want to change the text or the links for any reason, you will have to change this yourself (editing the image and the html code).
Of course, you may opt out of having this menu bar.
Please note:
The above preview is low quality and is watermarked.  The final template will not be.
The template will not be downloaded after purchase.  Once you have paid for the template, please contact me ASAP with your blog header/description and links/text for the horizontal menu bar.  I will then make a mock-up site for your approval.
Once I have all the information I need, I will make a mock site for you within 24 hours, but usually faster than that.
Once you have approved the template, I will email everything to you. The quicker you contact me, the faster I can work.
No changes in the graphics are permitted (only the addition of the blog title/description and menu bar text/URLs).  If you want extra changes, please contact me to discuss prior to purchase.
Of course I welcome questions before you purchase – please contact me to discuss 🙂
Price = $35US
Contact me to purchase